It's official, the shed that has been slowly growing on our little hill is now an observatory – the first telescopes are installed and the solar power system is nearly complete. It has been a fantastic effort by everyone involved. More images & information will follow soon.
---
04 March 2011 – Exciting news is here. We have received a major funding grant from the Eastern & Central Community Trust. This money now means we have enough for the solar/wind hybrid power system that will provide all our electrical needs. Also, we now have enough to finish the close in of the basic building and install the telescopes. There will still be work to do and money to raise for ongoing costs, but we are very close to having an operational observatory!
On site construction is well under way. Fences have been built, all of the structural steelwork is in position & telescope piers are set in concrete. All the flooring and wall framing has been very skilfully fitted. The roll-off roof is now in place and the wall cladding attached. An all weather road has been completed up to the site and a new gate installed. It looks fantastic!
My personal thanks go to all those who have contributed to this project – we couldn't do it without you.
All donations to the society of $5 or more are tax deductible and would be very gratefully received. Click here for a printable fund-raising poster.
The walls are now lined with coloursteel & the road and parking area have been laid with river metal.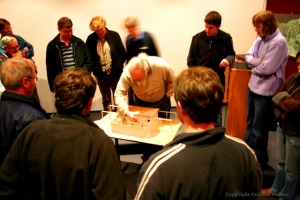 Club president, Gary Sparks, shows details during the unveiling of the model for the Pukerangi Observatory. A dark-sky site to the west of Napier is being discussed for the construction of a roll-off roof building, housing three telescopes. Photo details: Canon 350D, ISO 400, 1/2 second exposure with a Sigma 18-200mm lens @ f-3.5. Image taken July 12th 2006